YAY!!!!
Many many thanks to my new best friend Stephanie who very kindly found the yarn I was looking for! It has already been ordered and hopefully will be here very soon! I still can't believe she found it. I couldn't find it anywhere. She directed me to this site... Paradise Fibers.
Paradise Fibers has the color listed as Missoni 3001. I think that was a large part of my searching problem. No where on the original label does it say Missoni.
Oh well, problem solved!!! I'm not even remotely concerned about dye lot. If the socks are slightly off in color, it won't matter to me. I'm just so pleased that I will be able to finish both socks.
So, after my kid show this morning, I went off to Woolworks. What a great little shop! I loved it. Thank goodness it's a bit of a hike for me to get there or I'd be in there all the time! They have an amazing selection and the lady who waited on me was very sweet.
Here's what I bought...
Sock yarn!! (yes, I bought more yarn.)
And two skeins each! And I already casted on with the white.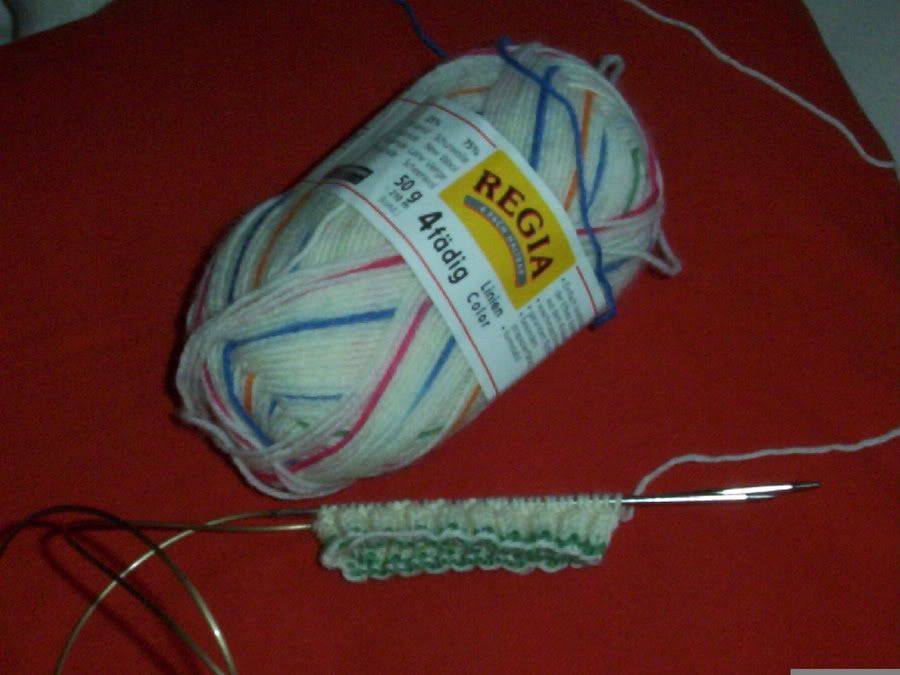 Look at me doing the little Magic Loop! I'm going to try the Jaywalker using this method. I had intended on getting another Addi Turbo circular to try and do the two socks at the same time thing, but unfortunately, Woolworks didn't have a 40" circ. So, I'm going do one at a time for now and try to pick up another 40" circ. at All About Yarn, next time I'm there.
Oh, and I tried a little tip I had read about somewhere. I soaked the cable of my circ. in hot water for a few minutes to soften it up. WOW, what a difference. It's so much more pliable and easier to work with. I fully intend to dunk all of my circs. soon.