It has become painfully obvious to me that I'm not going to be able to finish the green/blue striped jaywalkers with just 2 skeins of yarn. I'm gonna need a third skein. When I ordered the 2nd skein, I thought "you really should buy two more. Nah, it'll be fine, I'll just get one." Of course that's not going to work out!
I'm determined to finish these socks!! Come hell or high water or lack of yarn!
In an effort to show that I can actually finish something, I thought I'd post a few FO's.
Here is a small sampling of the many, many, many scarves I have produced.
From left to right...
1. My first attempt at stranded knitting (kinda fair isle?) I love this scarf but unfortunately it rolls up something awful. I've blocked it and blocked it and it's still a giant tootsie roll. I hardly ever wear it due to this problem. But I love the yarn (can't remember what kind it is, but it's really soft and the colors are beautiful, even if you can't tell from the pic!)

2. This is one of my first knitted scarves. It was a bitch to knit. It was knitted length-wise and has kind of a woven pattern to it. Also, my cast off was WAY too tight so it has this strange curve to it. But I wear it all the time. It's really long.
3. Crocheted ugly scarf. I think this thing is hideous but it is so warm. It's my dog walking scarf. I wrap it around my head and neck and it keeps me toasty.
4. Fun cross over scarf. I got the pattern for this from the TV show Knitty Gritty. It was so fun to knit. The pattern doesn't show up too well in this pic, but the long dropped stitches were so fun to do.
5. Funky confetti yarn held with cheapy black acrylic. This is a fun colorful scarf, but it is really stretched out. You know how the center of the scarf gets really thin and the ends get really wide? I hate that. I think I should have used smaller needles for this.
6. You can't really see #6 in this picture, but it is crocheted lengthwise out of leftover chenille in many different colors. I was really surprised at how nice it came out as it really was just a way to use up my chenille. I ended up making a bunch of these and selling them to friends.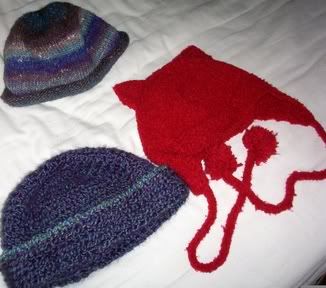 A few hats...
Top one is a simple roll brim made from left over Noro. I love the colors in this hat, but it's a bit itchy.
Left - Crocheted Homespun. Warm and soft. (I actually forgot I owned this!)
Right - The ever popular Kittyville hat from SnB. I have had people stop me on the street and ask me where I got it. Love it!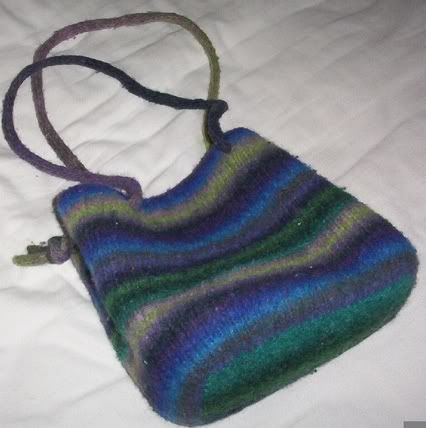 This is one of my favorite things I have ever made. I LOVE this bag. It's a Noro Kureyon Booga Bag. My very first felted object. Very very easy to knit. And Noro Kureyon has the most amazing colors, which got brighter and better with felting. On the down side... this bag has so many pills and yarn balls. I have one of those little battery operated de-fuzzers, but it really doesn't accomplish much.
I'm sure I will make more of these despite the pilling problem. The whole thing start to finish was very fun.