C'est Fini!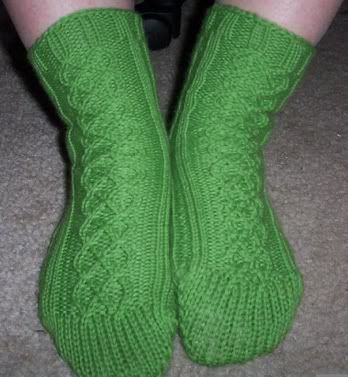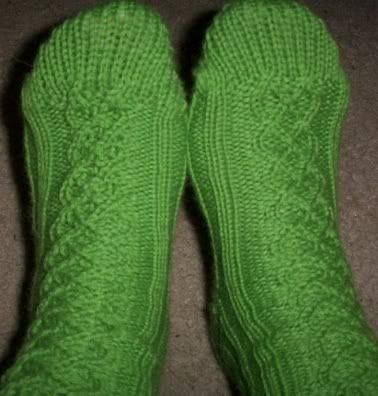 I have a pair of socks! I love them. Mainly because they are my first pair of socks. But I also really like the color. They are a little too thick to wear with shoes, but they will make great "kickin' around the house" socks. I've been thinking of making another pair in a softer yarn. I have some Simply Soft in my stash that I could play around with.
I just got home from knitting group. (Hi Samira!) I worked on the white jaywalker for awhile. I had some pattern issues though... I had a printed copy that I had been carrying around in my knitting bag with me. Before I left for knitting group, I realized the copy was no longer in my bag, so I printed a new one. When I got to group and looked at it, I realized that it didn't print right, so I couldn't read the last few words of every sentence. GRRRR... So, I eventually had to stop knitting because I didn't know what step came next. After I got back in my car to come home, I found the original printout in my purse. I had it with me the entire time. GRRRRR
And now for a little random ramblings..
I like to watch crafty kind of shows on TV. I enjoy
Knitty Gritty on DIY
and
Crafters Coast to Coast on HGTV
. I have actually learned a lot from watching Knitty Gritty. Every now and then, they'll show a stitch or a technique that I don't know how to do. As for Crafters, I like seeing the different things people make. However, I would like to know why they insist on making these people look like complete idiots on national TV. Today, there was a woman doing some sort of scrapbooking kind of craft. In every shot, she was wearing a different STUPID hat. She looked like a complete moron. I don't want to learn scrapbooking from a woman wearing cow horns. I mean REALLY, come on now people! Granted, she might actually be a complete moron. But I can't help but think that the producers put her up to it..."Hey, I've got an idea! It would be funny if you wore a really stupid hat on national TV!" And not only was this poor woman wearing a stupid hat, but at one point they cut to her husband who was outside barbequing with a chicken on his head. "Tell you what sir, we'll put you on TV too, but only if you put a stupid chicken hat on your head!"