To knit or to blog... that is the question...

I am sitting here working on the white Jaywalker. I need about 2 or 3 more inches of foot to finish. Have I mentioned... I'm a little terrified of the whole kitcheners stitch idea? I think I may have to flee to the old
LYS
to ask for help. Hopefully they won't mind that I didn't buy the yarn from them!
Look what came in the mail today!!!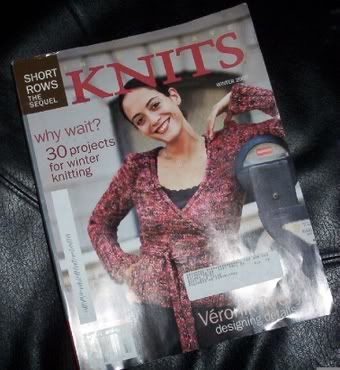 I gave myself a little Christmas present and got a subscription. I am very excited by the Embossed Leaves Socks pattern. (I tried to take a picture of the magazine page, but it didn't work so well!) I sooo want to attempt these. I will not even think about it until I finish the Jaywalkers and the cabled socks I have on the needles right now, but I can still fantasize about it, can't I?
So, I wanted to share a dirty little secret I have. It's about my needle case. It's a big honking mess.
I actually love this case. It holds a lot and I think it looks pretty cool. HOWEVER, I need to do something about the circular needles. They are getting a little out of control.
I read somewhere on
Craftster
a suggestion to use a zippered CD case to store circulars. I think this is a great idea. I know I have one somewhere in the mess that is my home. I just have to locate it.
Speaking of Craftster...
here
is a link to the cabled socks thread. The person who posted the pattern did go back and correct the mistakes, so it should be good to go. I only have two more cable repeats to do before I am DONE and I will have finished an actual PAIR of socks! I have to go sit through a rehearsal for our next show tonight and it is my plan to knit through the entire thing.