One down, one to go..
Finished a goose today! I'm really pleased with how this has turned out. If I look too closely, I can find all of my mistakes, but hopefully no one else will notice!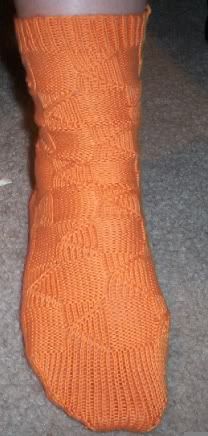 I even successfully managed the whole kitcheners stitch thingy! I had to recite the entire process outloud while I did it, but it actually came out well. It wasn't nearly as difficult as I thought it would be.
So, the question is... will I be able to finish the second sock by 8:00 p.m. Saturday when Kathy is due to arrive? I think I can do it. I have a lot of time to knit on Thursday. Friday, I have knitting fun planned with two new knitting friends (more on that in a second...) And Saturday during the day, I have knitting group. I think I can! I think I can! I think I can!
New knitting friends...
On Monday night, I had the extreme honor to meet the ever talented and creative
Eunny
and
Amie
. I had such a nice time. Truly lovely women. Eunny and I met at Panera and got to chat and knit for awhile. Amie was able to join us a bit later. It was very cool to put faces to these bloggers! I got to see the famous Deep V argyle vest live and in person. And Amie's self-dyed yarn turning into a very cute baby sweater. Oh... I'm supposed to spread rumors about Eunny. Amie already mentioned the baby eating and kitten kicking so I'll just say that there was talk of devil worship. (It would explain Eunny's speed in knitting!) It may be just a rumor, but ya never know! ;)
In my copious spare time today, (Two shows today. I despise matinees!) I got a little crazy on
Knit Picks
. I ordered a bunch of sock yarn, including some
Color Your Own
,
Palette
and
Parade
. Soooo bad of me. But, but, but... I really wanna try Koolaid yarn dying! And I really wanna give Eunny's argyle socks a try! (I have brown and pink in mind) And, and... I really don't need any green stripey sock yarn, but I love green! What can I say? It's just a sickness, isn't it?