Happy happy yarn!
I haven't blogged much this week because I have been KNITTING!!!! Tuesday afternoon, I started knitting a sock using my koolaid yarn. I have been knitting like a fiend ever since. I am so freaking excited about how this yarn turned out and how well it is knitting up. I LOVE IT!!!!
All other sock projects have been dropped. (for now!) I have promised myself that I will knit nothing but this pair of socks until they are done. I just turned the heel on the first sock tonight. It's 12:00 a.m. right now, but I am wide awake so there will be more knitting before I go to bed. My goal is to have them finished before Sucky Knitting Girls night on Monday. I don't know if I can do it, but I am sure going to try!
I bet you would like to see a picture! Well, I don't want to post pictures of the socks until they are done! BUT... I will show you this...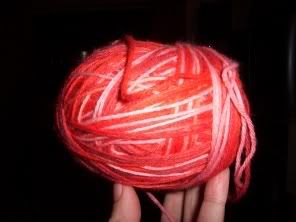 Really, I cannot tell you how happy this yarn makes me. My first dying project and it turned out perfectly. (In my own humble opinion!)
Since this yarn fits in so perfectly with
Lolly's Project Spectrum
, I have officially joined! I am checking out all the sexy Project Spectrum buttons so I can add one to my side bar. Thanks Lolly for suggesting I join! I don't know why I didn't do it before....
And of course, joining Project Spectrum now gives me an excuse to buy more yarn (Like I need an excuse.) (Dentist, yarn... Dentist, yarn... YARN.) Because sadly, I have no yellow yarn in my stash for next month. Doesn't that mean I need to purchase some immmediately??
So, I would like to pose a question to you all. I have seen this question discussed on other blogs before and I asked
Amie
this question the other day. How do you respond to people who say "Make me something!"? I get so irritated when people ask me to make them something. Even more irritated when they don't ask, but demand. It is quite obvious that the average person has absolutely no concept of the time and effort that goes into making a hand-knit item.
I am in a selfish knitting phase right now. I am knitting for ME. I want lots of hand-knit socks for myself. I am not always a selfish knitter. I enjoy knitting for my friends and family. But I don't have any desire to knit for the random people who come up to me and say "Make me something!"
I love Amie's suggestion that I tell them that I will make them something if they come do my laundry for me.
So... how do you respond?