How I spent my day off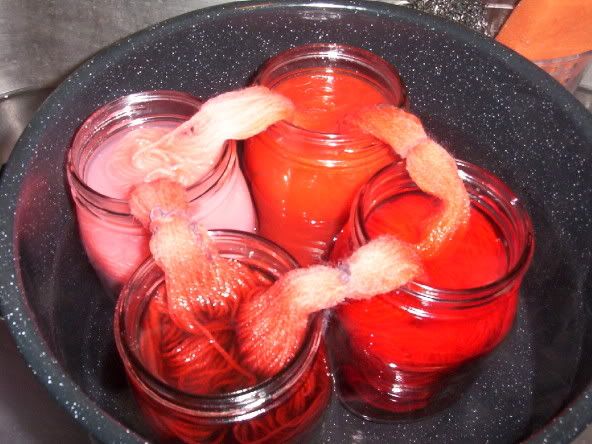 This was GOOD FUN. My fingers are red right now, but this was a cool project. Here's what I ended up with:
I'm a little sad because two of the reds came out very similar. I originally started with Cherry, Black Cherry, Strawberry, and Pink Lemonade. I ended up adding two packs of Orange to the Strawberry in an effort to make it look different from the Cherry, but it didn't work so well. I am also not crazy about how the Black Cherry came out. Perhaps I shall overdye the Strawberry/Orange section one last time and see what happens. This was my first Koolaid dying project. I didn't measure the yarn or anything. I just wrapped it around two chairs in the kitchen and sectioned it off into four different colors. I'm really curious to see how this knits up.
And in typical Coleen fashion, I successfully made a giant knot of the undyed yarn to start with. My housemate was laughing at me because I had yarn strewn all over the kitchen. It's sad. I NEED A SWIFT!
I am so excited - I am home for the night!!! I had rehearsal this morning, and then I was FREE! Scott just called and invited me over for a cookout dinner, but I turned him down. This is the first night I've been home in over a week. There will be knitting... oh yes... there will!
Here's a little fun...Some of these pictures made me laugh out loud.
www.stuffonmycat.com
Be sure to look for the picture of the cat wearing a crocheted scarf and hat.