Yummy Scrumptious Deliciousness!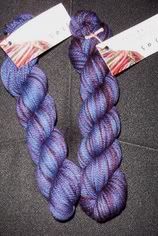 Sundara
hand-dyed superwash merino sock yarn in Grape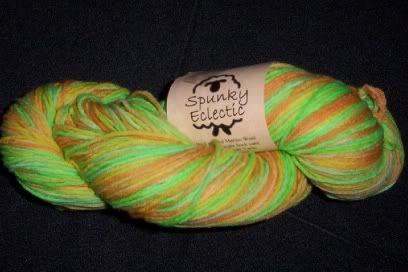 Spunky Eclectic
Hand painted merino wool in Lime Fire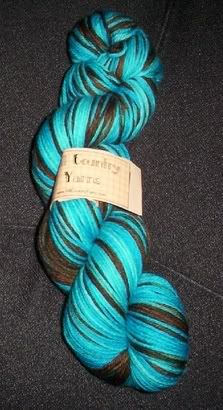 Hill Country Yarns
Instant Gratification sock yarn in Indian Stone
I am in yarn heaven. Aren't these FANTASTIC?? My crappy digital camera does not do any of these yarns justice. They are all beautiful. The Lime Fire was my prize for knitting the 1000th sock of 2006. I'm speechless. I told Amy that I loved bright colors like orange and green. I love that she combined them. LOVE LOVE LOVE IT! Again, many thanks to
Amie
and
Amy
. I feel very lucky!
For the moment, I am forcing myself to work on my current projects instead of putting any of this yarn on needles yet. YET. I just really want get the current socks I'm working on finished. THEN I can start playing with all this yummy wool.
So, in addition to a mailbox full of yarn, I also received these today: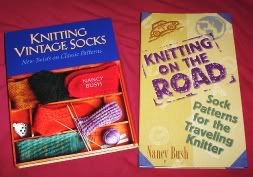 So, now I have lots of patterns to choose from to best use all this yarn.
And here's what I'm working on: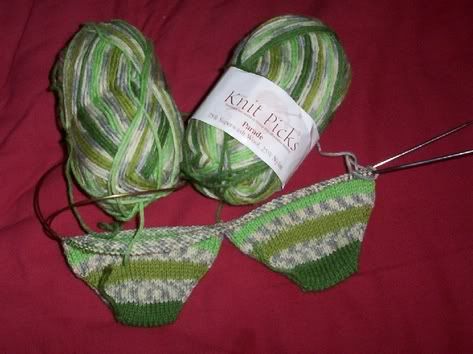 (click on the picture for a link to the pattern)
I think these are going to be a little big. But so far, I'm enjoying knitting them. My first toe up, two at the same time, socks.
And I am still working on my argyle.
I'm really pleased how this is turning out. It's taking me a while. There's been a fair amount of ripping because apparantly, I cannot count. But I'm still impressed with myself. I am actually carrying the yarns in both hands. I am not a fan of throwing with the right hand. I wouldn't mind it so much, but I can't find a comfortable way to keep the tension going. With my left hand, I wrap the yarn around my pinky. But that's not working so well with the right hand. Crazy English knitting!
I actually managed to escape the theatre early tonight. (LONG STORY)
So, now I'm going to get back to knitting!