How

Kool

am I???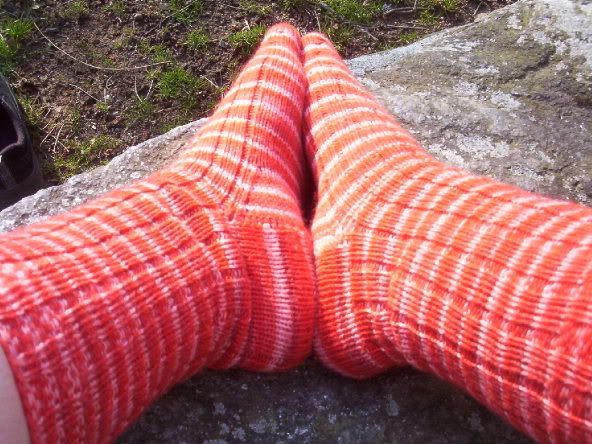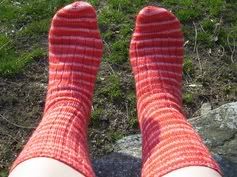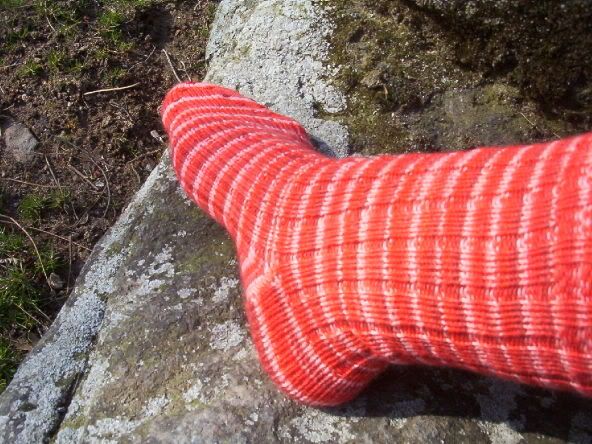 Pattern
:
Lichen Ribbed Socks from
Knitting Vintage Socks
by Nancy Bush
Needles:
2.75 Brittany DPN's
Yarn:
Knit Picks Color Your Own
...Hand-dyed by ME!!! (Koolaid dyed in cherry, pink lemonade, black cherry, and strawberry mixed with orange)
I LOVE THESE SOCKS!!!!
I am so excited that this magically turned into self striping yarn. It was purely accidental.
The only modification I made to the pattern was on the cuff. I did a K2P2 rib instead of the K1P1 that was called for.
I'm not really crazy about the heel (Welsh heel) or the toe (Star Toe of three points.) I think this toe would work better in a solid colored yarn. You can't really see it in this picture, but the stitches form a star shape on the toe. It kind of gets lost in the stripey-ness.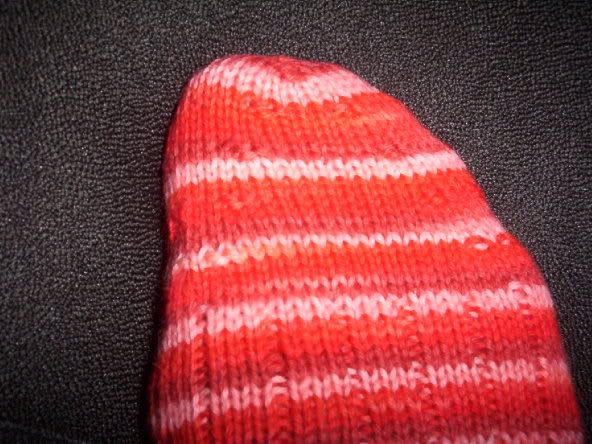 As for the heel... from my limited heel knitting experience, I think I prefer the K1 Sl1 variety. First of all, it's definitely more interesting to knit. And secondly, I'm just worried that this heel isn't thick enough to hold up to general wear and tear.
But it's all good, because I LOVE THESE SOCKS!!!
So... what's next?
Well... I am going to commit to trying to finish what I already have started. After I finished the red hot socks today, I went back to working on my
green toe-up socks
. I should be working on heels for those by tomorrow. Then I will work on the fabulously bright
lime fire
socks. I'm contemplating ripping what I've started and trying a different pattern for this great yarn. I'm just not crazy about how they are turning out so far.
It is taking immense will power for me to commit to finishing these socks because I really really want to cast on with my Sundara yarn and my Hill Country Yarn. But I am going to try to be good! Finish what I've started!
So there's lots of knitting gatherings coming up in April. Check out the
Baltimore Meetup
page for their upcoming gatherings. The Columbia Knit night will be happening again on Monday, April 17. And be sure to check out
Lolly's blog
. She's got a fabulous plan to have a knitting gathering on the mall in DC on Sunday, April 9. Fresh air and yarn! And maybe the
Cherry Blossoms
might hold out till then.
Till next time!