red legs
Conversations.
conversation 1S:
When are your nights off next week?
Me
: Monday, Tuesday, Saturday, Sunday.
S:
Wanna do something Monday night?
Me:
Can't. I have knitting group.
S:
Oh. Well, how about Tuesday.
Me:
Um... different knitting group. I could do Saturday night.
S:
I already have plans. What are you doing Sunday?
Me:
hmm... well... yeah, I will be knitting on the Mall.
Conversation 2
C:
You should take Wednesday off from work so we can go out to dinner.
Me:
I can't. I'm already taking nights off next week.
C:
Why? what are you doing?
Me:
knitting groups.
C:
You took off from work so you can knit.
Me:
well, yes. I did.
Said during both conversations:

You like your new knitting friends better than you like me. (they were both kidding, I think...)
Obviously my non-knitting friends just don't understand!
So, yes lots of knitting happenings around here next week!
Monday 4/3 7 p.m.- Columbia knitters night at Borders Cafe in the Target plaza off of 175.
Tuesday 4/4 7 p.m. -
Baltimore Knitting Meetup Group
at Panera in Towson.
Sunday 4/9 2 p.m. -
Lolly's Knitting on the Mall in DC
And speaking of knitting...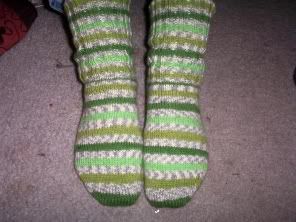 (yes, I desperately need to vacuum)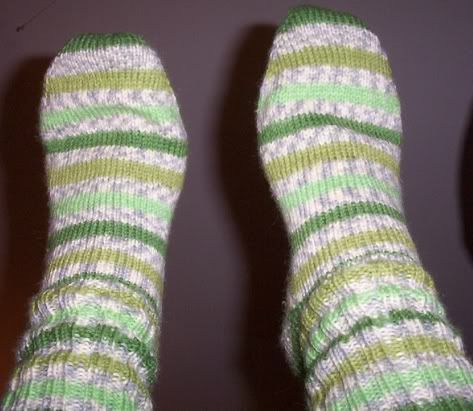 Toe up Socks!
Pattern:
Knitting 2 socks at one time on 1 long circular needle
Yarn:
Knitpicks Parade
in Forest
Needles: Addi Turbos 40" size 2.5
I did the entire cuff and leg in K2/P2 rib.
These were a fun knit. I really like the 2 at the same time idea. Really helps kill that second sock syndrome! And the toe up was fun too, even though the heel was vexing me for a while. (Again, I cannot count) These came out really thick. They are going to be great winter socks. Not terribly comfortable on a 65 degree spring day, such as today!
What's next?
Well, I think I'm going to
attempt
the
Pomatomus socks on Knitty
. I would like to stress
ATTEMPT.
As I have never really done lace before and I haven't much practice reading charts, this will be an adventure.
I did a little bit of swatching tonight at work with my
Sundara Sock yarn
.
I'm not getting gauge, so I'm going to go down a needle size. I LOVE the colors in this yarn! My picture sucks and does not do it justice. (I hope you are all impressed with the fact that I did a swatch!)
Ok, I'm off to bed. I leave you with this little
Project Spectrum
picture:
I took a bunch of Red and Pink pictures at the theatre tonight. After I figure out how to do something cool with them all, I will post them here.