Fly Away Geese!
Flock of Geese Socks
Knitting Pattern A Day Calendar 2005
Dalegarn Stork yarn Color 19
Magic Loop'ed them on the old Addi Turbos!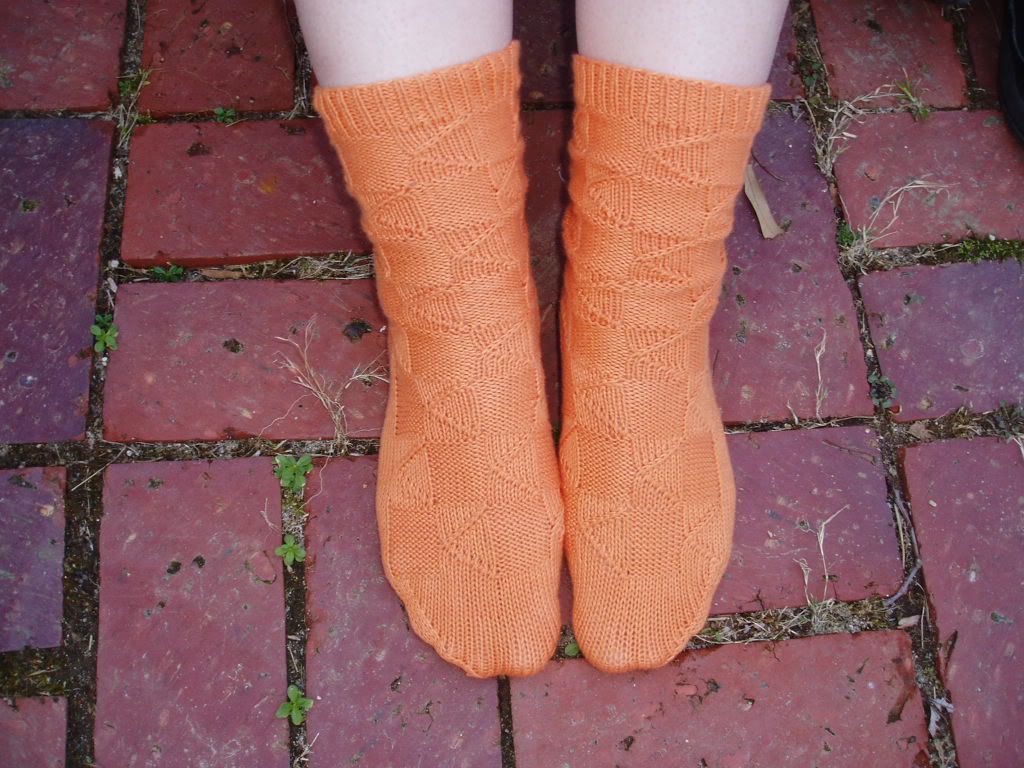 Soooo glad these are done. I am really happy with how they turned out but, I was sick of them! Pattern was easy, but I kept screwing it up! They will be in the mail to Kathy very soon.
Next up...
Well, I'm still working away on the argyles. Or should I say (singular) argyle. I went back and stitched over the mistake I made in the pattern. It actually worked really well. Can't see the mistake anymore.
I want to start some toe-up socks in the green stripey yarn I got from Knitpicks. I have instructions for two toe-up socks on one magic loop, but I need to find time to sit down and decipher the cast on. It looks like something I'm going to need to practice.
I still have a very lonely Jaywalker on the needles that is buried at the bottom of my knitting bag. I may have to yank that out and work on it again. Maybe even make it a sole mate. (get it? sole mate? like sole of a foot? hahaha. I know.. It's terrible.)
I have come to the very sad conclusion that there is no way in hell I'm going to be able to knit during the current show. I am WAY too busy. This show is a BITCH. I ran the slides for the first time on Sunday. It was awful. There was much cursing involved. It is going to take me awhile to get the hang of running the slides and the light cues at the same time. The sad part is - I don't have time to get the hang of it. I have to start training someone tomorrow night. It will be the blind leading the blind. I have no idea what I'm doing and yet I have to train someone else to do it. She has to be ready to run the show solo by Saturday so that I can have a day off(a whole entire day!) before I have to go to Baltimore to open another show. Then, a week later when I get back from Baltimore, I have to train ANOTHER person to run lights and slides. Which will be even more fun since I will have been away from it for a week. STRESS!!!!